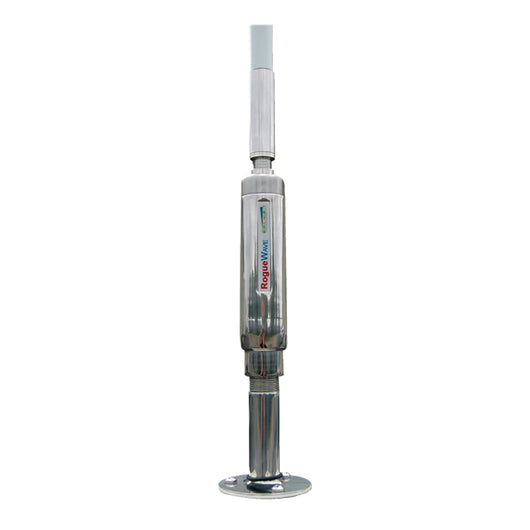 Wave WiFi Rogue Pro Ethernet Converter/Bridge [ROGUE PRO]
Regular price $495.00 $421.00 Sale
Rogue Pro Ethernet Converter/Bridge

The Rogue Pro features the same trouble-free high powered performance of the Rogue Wave in a sealed, polished stainless steel marine case. The Rogue Pro requires an integral 1"-14" standard antenna mount (not Included).

In addition to the enhanced dust and moisture resistance, the stainless steel housing offers superior impact resistance. The Rogue Pro was developed in response to a need for an extremely ruggedized WiFi device for commercial, military and Homeland Security projects.

Like all Wave WiFi models, the Rogue Pro is an Ethernet Converter (EC) so a direct connection can be made to any Ethernet enabled device, router or switch. This means that, when connected to a wireless router, the Rogue Wave provides internet connectivity for numerous wireless devices aboard the boat. There is no software to install and no power robbing USB coonections.

Features:

Adjustable output up to 29dBm (800mW)

Supports 802.11 b/g/n (2.4 GHz)

Up to 7-mile range*

Easy to use proprietary web-based Wave WiFi Interface

Compact, ultra-small Stainless Steel design

120/220 VAC & 12 VDC PoE injector

1-year limited warranty
*Actual distance may be affected by the strength and quality of the hot spot signal, as well as having a clear line-of-site to the boat.
What's in the box:
Wavewifi EC-Rogue
8db Marine Antenna
12/110V Poe Pwr Supply
25' Ethernet Cable
Quick Start Guide & Manual
This product may not be returned to the original point of purchase. Please contact the manufacturer directly with any issues or concerns.
Specifications:
Speed - Max: 2.4 GHz
Wireless: Yes
Box Dimensions: 2"H x 6"W x 23"L WT: 2.7 lbs