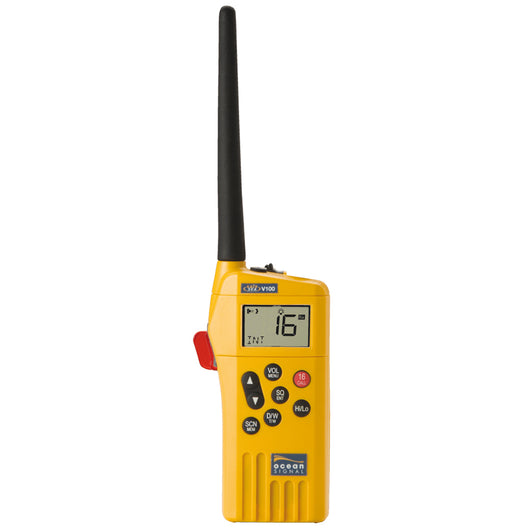 Ocean Signal SafeSea V100 GMDSS VHF Radio - 21 Channels [720S-00585]
Regular price $922.88 $553.99 Sale
SafeSea V100 GMDSS VHF Radio - 21 Channels
The Ocean Signal range of survival craft VHF hand portable radiotelephones exceed the requirements of IMO, SOLAS and GMDSS.
Features:
Lithium Polymer rechargeable battery option available with rapid charger, for everyday normal use
Fully waterproof, even 40C thermal shock
High efficiency transmitter for maximum battery life
Rugged design exceeds GMDSS environmental requirements
Lithium primary battery for emergency use
-Novel battery protection tab protects from inadvertent use
-Battery classified as non-hazardous for shipment
-Battery provides in excess of 16 hours typical operation, even at -20°C. (10% Tx, 10% Rx, 80% Squelched)
Laser etched key legends for durability
High contrast, backlit LCD and keypad
Rugged accessory socket option; waterproof to IP68 for use with headsets, helmets, fist mikes, etc.
4 scanning modes, D/W, T/W, scan and memory scan
21 simplex channels according to IMO SOLAs requirements
The SafeSea V100 survival craft hand portable radiotelephone meets all the requirements of the IMO for carriage on SOLAS ships. Designed to be ultra-rugged and easy to use, both on-board and in distress situations, the V100 is the ideal choice for mandatory and voluntary carriage.
The novel battery protection tab means the primary battery can be permanently attached to the radio without fear of losing its charge. The radio will always be available for use in times of emergency without the need to remove protective labels or the like before use. Simply break off the red protective tab and the radio will be immediately ready to turn on.
For everyday use, Ocean Signal offers a lithium polymer rechargeable battery (RB5V) option is available. The quick release rapid charger provides the ideal solution for keeping the batteries fully charged.
For routine testing of the V100 an alkaline, non-rechargeable, battery (TB6V) is available. This battery has limited life for testing only and not suitable for operational use.
Specifications:
Transmitter:
Output Power (High): 2.5W
Output Power (Low): 1W
Modulation: +/-5kHz(max) FM
Emission Designator: 16K0G3EJN
Pre-Emphasis: 6dB/octave (300Hz to 3kHz)
Environmental:
IEC60945 Category: Portable
Operating Temperature Range: -20°C to +55°C
Storage Temperature Range: -30°C to +70°C
Humidity: 93% @ +40°C
Waterproof: 1M for 30minutes
Thermal Shock: 100mm with 45°C drop for 1hour
Drop proof (onto hardwood surface): 1M (6 faces)
Receiver:
Sensitivity (20dB SINAD): -117dBm
Audio Output Power: 0.4W
Adjacent Channel Rejection: >70dB
Intermodulation Rejection: >68dB
Spurious Response Rejection: >70dB
Spurious Emissions: <2nWatt
Battery:
Primary: Lithium
Chemistry: Lithium/Iron Disulfide (Li/FeS2)
Operational Lifetime (10% Tx:10% Rx:80% Squelched): >16hours
Rechargeable: Lithium Polymer
Battery expires 2023

WARNING: This product can expose you to chemicals including di(2-ethylhexyl)phthalate (dehp) which is known to the State of California to cause cancer, birth defects or other reproductive harm. For more information go to P65Warnings.ca.gov.
Specifications:
Bluetooth: No
Floats: No
Built-In GPS: No
Battery Type: Lithium Ion
Power - Output (Watts): 1/2.5w
Speaker Mic: Yes
Weather Alert: No
Box Dimensions: 3"H x 7"W x 12"L WT: 1.5 lbs
UPC: 5060266110122
Owner's Manual (pdf)