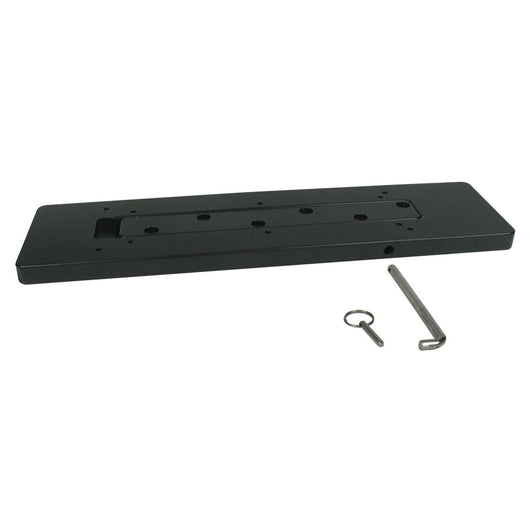 MotorGuide Black Removable Mounting Plate [MGA501A2]
Regular price $144.99 $129.99 Sale
Made out of a high-impact composite, these mounting plates make removing your trolling motor and mount quick, fast, and simple. The universal hole-patterns fit most traditional trolling motor mounts and all traditional MotorGuide trolling motor mounts. Fits Gator Flex 360, Gator 20.5, 20.8, 21, 21R mounts and can be modified by adding additional holes to fit our longer 23.5 and 24 mounts. The smaller insert piece is secured to the boat with stainless steel bolts, washers, and nylon lock nuts providing a solid base. The larger outside piece slides into place from the front of the boat and is held in place by a tab on the inner piece with a stainless steel pin running through both pieces at the back of the mount.

These mounting plates are ideal for saltwater flats, ski, and fish boats, or anytime the trolling motor needs to be quickly removed.

WARNING: This product can expose you to chemicals which are known to the State of California to cause cancer, birth defects or other reproductive harm. For more information go to P65Warnings.ca.gov.