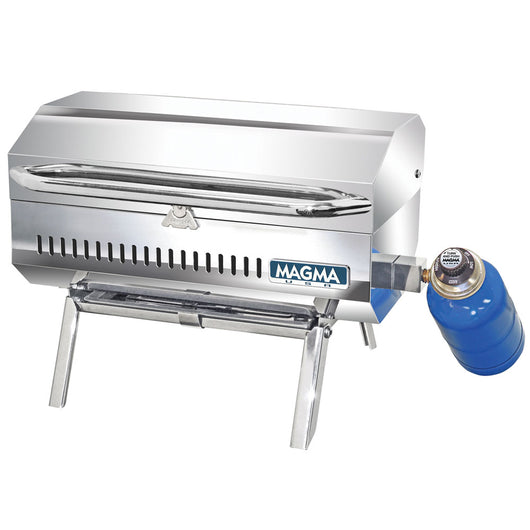 Magma ChefsMate Gas Grill [A10-803]
Regular price $369.98 $259.99 Sale
ChefsMate Gas Grill 

Grilling Area:
162 sq. in. (1045 sq. cm)
9" x 18" (23 x 46 cm)

Meticulous attention to even the smallest details creates the finest value grill available. Wind tested for perfect even heat distribution, this grill offers the cooking performance usually only found in large back yard grills costing much more. Easily transported, the Fold-Away legs are out of the way on-board, but readily available for that quick picnic on shore. The Snap-out radiant plate provides easy access for clean up yet allows the flame kissed flavor that makes for really memorable meals on onboard or ashore. Designed for beauty and performance, you'll find that the ChefsMate is constructed flawlessly for years on dependable use. Uses standard disposable 1-lb. propane canisters or adapts to on-board LPG (propane) or CNG (natural gas) systems.
DO NOT USE LEGS ON BOAT!
Optional mounting hardware is available for mounting for on-board use.
All replacement parts are in stock and will be readily available.
Outside of North America, contact Magma for model numbers and compatible fuel applications.
Serving shelf and fuel canisters are sold separately.
Fold-Away legs. Perfect for that quick picnic on shore.
Inner Safety Shell. Funnels grease into front access grease tray reducing flare-up and heat discoloration.
100% 18-9 mirror polished stainless steel. For lasting beauty and superior corrosion resistance.
Convenient Snap-out radiant plate. Allows quick, easy clean-up and perfect even heat distribution.
Oversized perfectly balanced lockable lid. Won't slam shut and secures all inner components for transport.
Full-length handle. Gives access from either side and makes mounting and transport easy.
Front access, lock-in-place grease tray.
Swiveling valve/ regulator. Allows quick and safe gas bottle exchange.
Magma offers the largest selection of mounting options and accessories. To customize your grill to your boat.
Additional Features
Snap-in Single Element radiant plate heat distribution system
Oversized locking lid, secures all inner parts when locked (lid is balanced and will not slam shut)
18-8 Stainless Steel folding legs, for use when ashore
Swiveling control valve regulator
Full length stainless Lid/ Carrying Handle
Specifications
Fuel: Propane
Fuel Options: Disposable 1-lb. canister, on-board LPG, or CNG fuel systems
Fuel Burn Time: 2-4 hours at recommended temperatures using 1-lb. canister
Number of Burners: 1
Burner BTU Output: 11,200
LID: Stainless steel
Shell Liner: 2 Piece Snap-In Grease Diverting Liner
Product Weight: 14.35 lb.
Product Height: 10-3/8"
Product Length: 22-1/8"
Product Width: 11-1/2"
Cooking Grill Diameter: 9" x 18"
Construction Materials
Exterior Components: 100% Mirror Polished 18-9 Stainless Steel
Interior Components: 100% 18-8 Stainless Steel
Cooking Grill: Stainless Steel
Handle: Tubular Stainless Steel
Burner: Stainless Steel
Warranty
This product may not be returned to the original point of purchase. Please contact the manufacturer directly with any issues or concerns.
Quick Guide (pdf)
Owner's Manual (pdf)