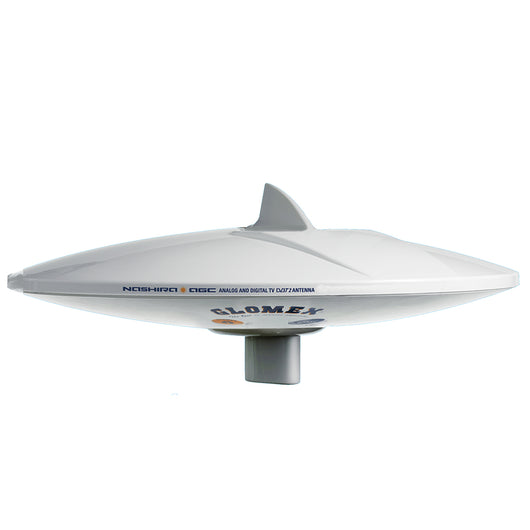 Glomex 14" TV Antenna Only [V9112/12AASY]
Regular price $172.00 $112.99 Sale
Glomex 14" TV Antenna Only
The Nashira evolves into the Nashira AGC to make your life easier with the new and innovative automatic gain control amplifier.
Thanks to this new amplifier, you only have to turn on the TV and the antenna AGC will adjust by itself the gain of the TV signal to ensure the best possible reception of television broadcasts.
With conventional amplifiers, you have to manually adjust the TV signal gain by lowering or increasing the gain based on the signal strength. With the new Nashira AGC, everything will happen automatically and the innovative amplifier can be placed in a hidden location inside the boat. This innovation increases the Nashira's benefits that have allowed the Nashira to be the best-selling marine DVB-T and DVB-T2 TV antenna in the world for more than 30 years. With its always appreciated essential styling, aerodynamic lines, "shark fin" (55mm/2.2" high) for receiving vertically polarized TV signals, reinforced base to ensure maximum stability, compact size (370 mm/14" diameter), and high quality construction materials, it is easy to understand with this antenna is so popular. If matched with a 2-way splitter (code: V9147, optional) installed between the antenna and the amplifier, it can also receive AM-FM radio frequencies.
The Nashira is the ideal solution for any type of boat.
** Comes with TV Antenna Only

WARNING: This product can expose you to chemicals including LEAD which is known to the State of California to cause cancer, birth defects or other reproductive harm. For more information go to P65Warnings.ca.gov.
Specifications:
Dome Dimensions: 2.2" x 14"
Length (Inches): 14"
Color: White
Construction: Plastic
Dome Weight (lbs): 2.15 lbs
Antenna Band: TV
Voltage - Input Range (Volts): 12/24v
Box Dimensions: 6"H x 15"W x 15"L WT: 3 lbs
UPC: 8051566304325
Owner's Manual (pdf)