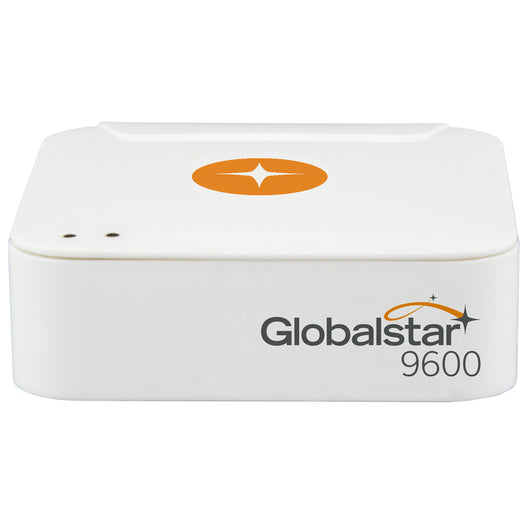 Globalstar 9600 Mini Router for GSAT phone [GLOBALSTAR 9600]
Regular price $149.99 Sale
9600 Mini Router Satellite Data Hotspot *
*requires sat phone sold separately
Send & Receive Email Over The Most Modern Satellite Network - Productive. Portable. Affordable.
With the Globalstar 9600 and a Globalstar satellite phone, customers can use their existing Wi-Fi enabled devices to send and receive email over the most modern satellite network. Whether on land or at sea, you will be able to maintain reliable connectivity when beyond cellular. Experience the industry's fastest data speeds, at an affordable price.
Benefits:
Productivity - Uses the industry's fastest MMS data speeds, allowing you to send more in less time, saving airtime costs
Portability - Lightweight and small enough to fit in your pocket, with 4 hours of battery life
Affordable - No additional costs, uses your existing Globalstar airtime plan minutes
Robust - Send email, photos and other attachments when beyond cellular, or make updates to your social media accounts
Features:
Easily send and receive emails and post to social media from any Wi-Fi enabled device
Conveniently use existing device contacts via Sat-Fi App
Fastest MMS data speeds in the industry
Powered by the world's most modern satellite network
Simple to Use
1. Download and install the Sat-Fi App to your smartphone or wireless device
2. Turn on your Globalstar Satellite Phone and connect it to the Globalstar 9600
3. Connect your smartphone or wireless device to the Globalstar 9600 Satellite Hotspot
4. Your smartphone or wireless device is now connected for email and data
Specifications:
Dimensions: 2.42" x 2.42" x 0.83" (61.5mm x 61.5mm x 21mm)
Weight: 2 oz (57 g)
Power Supply: 5 VDC, 1 Amp
Rechargeable Battery: 4 Hours Usage, Up to 36 Hours Standby
Operating Temperature: 32° F to +113° F
Storage Temperature: 14° F to +113° F
Wi-Fi Frequency: 2.4 GHz - 2.4835 GHz
Wi-Fi Range: Up to 30 ft
External Ports: 1 - USB Port, 1 - Ethernet Port (LAN/WAN), 1 - Micro USB (for DC Power)
Compatible Devices:
GSP-1700
GSP-1600 (additional cables required)
GSP-2900 (additional cables required)
This product may not be returned to the original point of purchase. Please contact the manufacturer directly with any issues or concerns.
Specifications:
Wireless: Yes
Box Dimensions: 3"H x 4"W x 7"L WT: 0.9 lbs
UPC: 893049001646
Quick Guide (pdf)
Brochure (pdf)