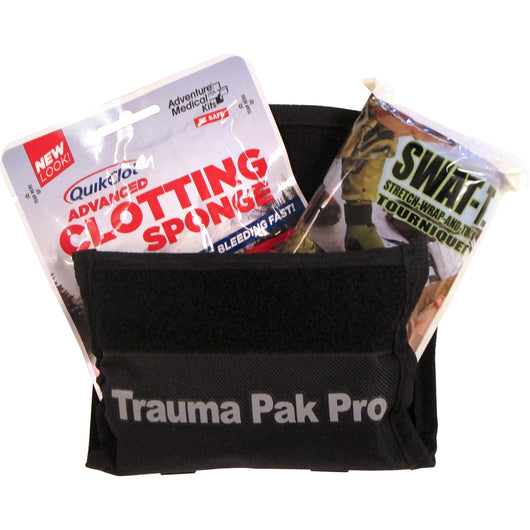 Adventure Medical Trauma Pak Pro w/Torniquet [2064-0293]
Regular price $49.99 Sale
Trauma Pak Pro with QuikClot® & Swat-T™
The Trauma Pak Pro takes bleeding control to a new level with two products designed to control bleeding at the scene so more advanced care can be sought later. The QuikClot® Sponge is non-chemical and is made from zeolite beads contained in a sterile, non-adherent mesh bag. 
You simply apply QuikClot over bleeding areas to speed clotting. Swat-T Tourniquet is engineered for use in the field and allows a rapid means to control extremity bleeding, quickly and easily with its Swat-T (Stretch, Wrap and Tuck Tourniquet) technology. Individuals can quickly apply it in seconds with little or no prior medical training.
Features:
Stop Bleeding Fast!
QuikClot® Sport™ Sponge stops bleeding fast
Critical First Aid Information
Instruction sheet with information on managing life-threatening and traumatic injuries
Made for Tactical First Response
Designed for fast deployment in critical situations; fits in BDU pocket
Personal Protection
Nitrile examition gloves plus biohazard disposal bag
A Tourniquet Anyone Can Safely Use!
The Swat-T™ is easy for anyone to use without advanced training. Instructions are printed directly on the Swat-T
Kit Details:
Size: 5.5" x 4" x 1.5"
Weight: 8oz
Group Size: 1 Person
Trip Duration: 1 - 2 Days
Supply List:
Bleeding:
1 - QuikClot Sport 25g
1 - SWAT-T™ Tourniquet
1 - Gloves, Nitrile (Pair), Hand Wipe & Disposal Bag
1 - Trauma Pad, 5" x 9"
Duct Tape:
Medical Instructions:
1 - Trauma Response Instructions
∗We reserve the right to add, substitute, or delete items if necessary.  Please note: Some medications may not be available in products sold outside of the US, additional items may be substituted.
Specifications:
Waterproof: No
Box Dimensions: 3"H x 3"W x 6"L WT: 0.4 lbs
UPC: 707708002939